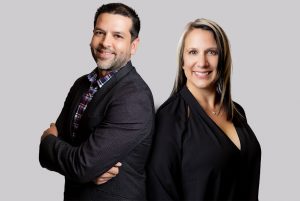 Started in 2000, Leapfrog Technology Group is a complete technology solution provider. We are committed to making sure business owners have reliable and professional IT service that exceeds today's industry standards of best practices. We have developed a team of talented engineers, architects and masterminds with diverse skillsets and expert level knowledge not only to provide support for the technology you rely upon for operations every single day, but to provide you a friend in the industry for any question, crisis or conundrum that comes with running a business!
Over the past 22 years, Leapfrog has been a preferred partner for a number of Fortune 500 companies as well as various local small & midsize Healthcare, Logistics, Engineering, Financial and Manufacturing companies ranging anywhere from 1-75 servers and 10-500 workstations!
Here's why so many businesses depend on Leapfrog Technology Group for complete IT services and support:
Reason 1: Personal Touch - You are more than a number to us, so we answer your calls with our own Leapfrog staff. We know it's the little things that make the difference and that is why we take the time to get to know you and your business.
Reason 2: Committed to Quality - Leapfrog has been in business for over 22 years and as we matured we have learned the value of a great business partner. We spend an enormous amount of time hand-selecting customers that we can show our excellence. We simply don't pursue anything less than excellent!
Reason 3: Keep It Simple - Our approach to our business, services and customer relationships is to Keep It Simple. If you need to drag out a matrix and map to figure out when your support team will come on site to assist or how you were billed last month, you've made it too complicated. We focus on simple solutions that do what we say they will, guaranteed.
Reason 4: Security Is Our Top Priority - Security is only as strong as your weakest link. Leapfrog takes security seriously, not only for our customers, but internally as well.  We are HIPAA, SOC II and HITRUST certified to ensure we are always adhering to Security Best Practices.
Reason 5: We Are Fun To Work With! - Who wants to work with a stick in the mud? We certainly don't.  We truly enjoy technology and truly enjoy what we do, and it shows!
Leapfrog Technology Group would love to partner with YOU for your next step in IT. We have been providing core competencies in analysis, design, deployment and support of mission-critical computing environments all while implementing cost effective solutions for organizations with IT expenditures. Our custom service packages deliver what you need and want without overstepping the boundaries of your budget. Leapfrog Technology Group is here to team up with you and your company for expert support.